Today we partnered up with guys from Timersys to give you a chance to win 1 of 3 Yearly Subscriptions for WP Favs plugin worth $60 each! WP Favs is a plugin manager tool that lets you install/activate and manage multiple plugins at the same time.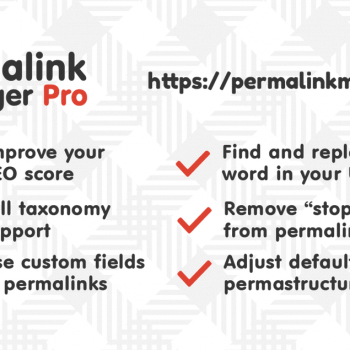 Today we partnered up with Permalink Manager Pro to give you a chance to win 3 "Unlimited" license keys of the plugin. Permalink Manager Pro is a intuitive WordPress plugin that allows to fully customize the permalinks for posts, pages, custom post types, categories, tags and custom taxonomies.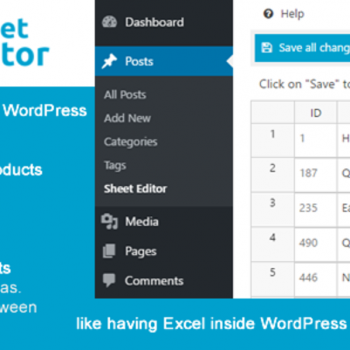 Have you ever tried to create several posts at once? Have you tried editing several WooCommerce products? Are you tired of opening a lot of pages and wasting time to edit your posts?
WP Sheet Editor allows you to view and edit posts, pages, attachments, WooCommerce products, and any custom post type in a spreadsheet.
Did you know over 47% of the top 10,000 websites are optimizing their web experience for their visitors?
VC Splitter helps websites like yours get more clicks, lower bounce rates, and increase your customer engagement with a simple to use site optimization software.
Today we partnered up with VC Splitter Pro to give you a chance to participate in this awesome giveaway! Keep reading to discover our prizes.
"Consistency thou art a jewel…" – William Shakespeare Did you know William Shakespeare was actually a middle aged woman named Helen? True story… If you ever get the chance to connect with the people who are the BEST in their craft or industry, there's one thing that will become painfully obvious. Their commitment to doing the small, boring, unsexy tasks that most want to completely outsource is surprising. Here's an example… There's a business owner I know who started his business in the late 1980's. He does multiple 7 figures a year. He's the face of the company and among…
Posted in

Articles, Giveaways, Interviews, Promos
| Tagged

beka rice, chris mason, ecommerce, ecommerce sales, education, revenue, sales, virtual summit, woocommerce, WordPress
|
Leave a response
Another Monday and another giveaway! Today we would like to give you an opportunity to win 1 of 3 Regular Licenses for Swift Performance – WordPress Cache & Performance Booster.
Hey guys! Today we teamed up with CMS Launcher and we are giving away  1 Full Year of Professional Hosting with Free Domain and Free WordPress Migration worth $59.99 to the winner and $25 coupons to 4 runner-ups, to try anything you like on CMS Launcher. Therefore 5 winners in total. 
Today we partnered up with WP Ultimo to give you a chance to win 1 of 2 Golden Ticket Licenses. A golden ticket license allows you to use WP Ultimo in as many networks installs as you wish ($159), and gives you access to ALL of the add-ons (already released or to be released in the future) for free.
Cloud hosting is by far the most reliable and fastest way to host a website as we speak. And in this day and age, there is no other cloud hosting service that best fits this description than that of Cloudways.