Lindsay Liedke
Lindsay is a freelance writer who loves all things WordPress. When she is not writing she can be found spending family time with her son and two silly nephews.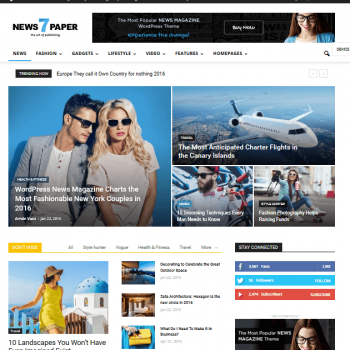 Sharing killer content with your site visitors is just one way you can utilize the versatile WordPress platform. However, there is a way to make your WordPress theme work harder for you and earn you some extra cold hard cash.
If this sounds like something that interests you, keep reading. Today we are going to share with you some of the best ad-space WordPress themes so you can start to make more money using your website.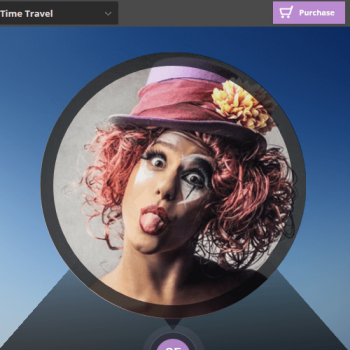 Choosing your website's theme can single handedly seal the fate of your website without you even knowing it. I mean, you have to leave an exceptional first impression on every site visitor that comes your way and what better way to do that then with a creative, unique, and standout WordPress theme?
Today I am happy to share with you 35 of the best WordPress animation themes on the market today that will provide you that added visual appeal without cornering you into a niche you are not ready to commit to. In the end, these creative themes will allow you endless possibilities when it comes to the creation of your WordPress website.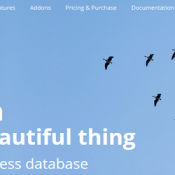 WordPress Multisite is an efficient way of connecting multiple websites and managing them from one central location. In fact, integrating several websites into one WordPress install offers website owners many benefits.
But what would you do if a single website outgrew your multisite network?
Today we are going to take a potentially difficult scenario – migrating a WordPress multisite subsite to a single site – and make it a little simpler. We will look at what multisite is, the benefits of using it, and two ways to split a multisite network into singe sites so that you can give your growing sites room to grow and garner more success.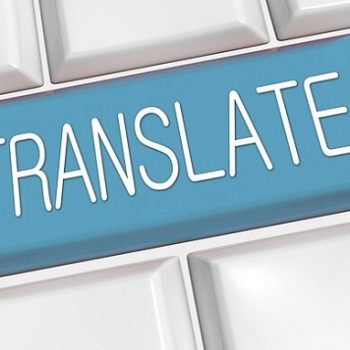 The demand for multilingual websites is on the rise thanks in large part to those striving to reach a more global audience. Having a worldwide reach draws more traffic to your blog, encourages more consumers to make purchases, and ultimately helps you build a more successful website.
The best solution for those looking to make their content available to site visitors in more than one language is to create a multilingual website.  Fortunately, there are many WordPress multilingual plugins available on the market today to help with just that.
Today we will review and compare three of the most popular WordPress multilingual plugins offered to website owners looking to cater to an international audience – WPML, Polylang, and qTranslate X.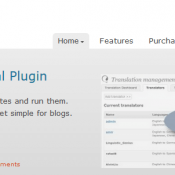 Have you ever wondered what it would take to create a multilingual WordPress site? After all, your site visitors are from across the globe and likely speak many different languages than the primary language your website displays.
Well, today we are going to take it down a notch and give you just the basics. Keep reading to find out why you should consider translating your website's content and how to create a multilingual WordPress site using the ever-popular WPML translation plugin.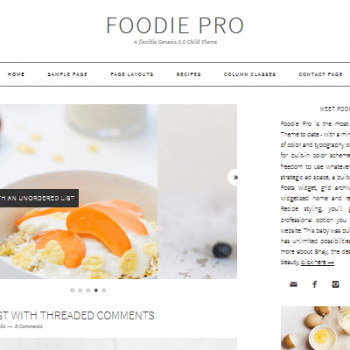 Are you looking to blog about all things food related? 
If you have recipes to share, cookbooks to sell, and kitchen supplies available to make it all come together into one delicious meal, you will need an exceptional WordPress food blog theme to make it in the competitive foodie industry.
No matter what you have to share with your loyal readers, having a quality food theme designed specifically for the food industry will make all the difference. With features like recipe plugin support, recipe layouts, ingredient post and menu templates, stunning image options, responsive design, and so much more, you need more than just a regular multipurpose theme.
Today we are going to look at some of the very best WordPress food blog themes on the market for food pros like yourself.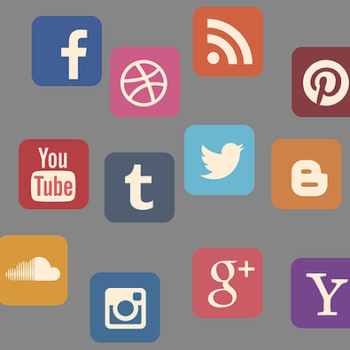 The importance of social media cannot be understated.  And what's better, your loyal customers, potential customers, and anyone in between, want you to reach out to them on their favorite social media networks.
However, sharing your newly created content manually across several social media networks can prove time-consuming and frustrating.
That's why today I am going to show you how to automatically share all of your website's content using a great plugin called NextScripts: Social Networks Auto-Poster (also known as SNAP).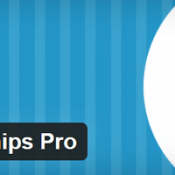 Membership websites created using WordPress have the potential to provide you a steady stream of income. For example, craft compelling content and receive payment for it. In addition, use your loyal readers as test subjects for new products or services. And to top it off, do all of this while maintaining higher levels of control access.
For today's purposes I am using the Paid Memberships Pro WordPress plugin. Reason is, it is flexible enough to cater to any type of membership website and is also free. This means it is budget friendly for anyone interested in building a membership site. And hopefully I turn the sometimes complex task of building a WordPress membership website into a simpler process.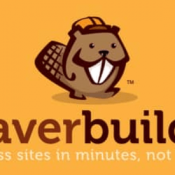 These days, there is no reason to think all-inclusive when you hear the word "web developer". In fact, these days there is so much specialization in the world of website creation, you can hire a different person for every single task. Better yet, these days you can do many tasks related to website creation yourself.
In fact, there is one such task when it comes to creating the perfect website that we here at WP Mayor encourage you to do yourself – page building.
That said, today we are going to take a look at WordPress page builder plugins and why they are so great for website owners such as yourself.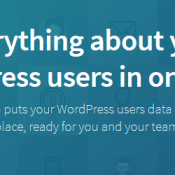 Understanding how your visitors navigate your website and interact with your content is vital for optimizing site performance and conversions. In fact, by knowing what your visitors are up to on the daily can help you can better convert those same visitors into leads, sales, and loyal repeat customers.
Trying to sift through all of the data your WordPress website generates can be confusing and overwhelming. Especially if you do not know where to start. However, by educating yourself on what to look for, you can use that information to get on the path to success.
That's why today we are going to further discuss the exceptional User Insights plugin and see what awesome features are included to help you make sense of your WordPress user data.